The system «Mywardrobe» allows to save space and time!
You don't need to look up and down the whole wardrobe to find the needed clothes!
Automated wardrobe delivers the needed garment right into your hands!
Safe steel construction with working parts are made of stainless steel. The design of a conveyor has an electric motor and rotates at a hundred of bearings.

The rotation is performed in both directions (back/forth), that allows to deliver garments within the shortest path. The professional series is a sign of reliability and service life.

The models are designed for any room configuration: straight, angular, round, two–storey rooms.
The price with installation starts from: $ 1,320
Watch video Automated wardrobe for home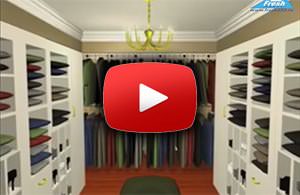 Application «My wardrobe» is available now.

For mobiles in AppStore, GooglePlay, Windows Mobile
(Search by photo and delivery of clothing right to the needed spot)

Telephone order: +1 (872) 236 22 22