RFID textile UHF tag-22
(water-chemical-Thermally-resistant)
This flexible RFID tag textile / silicone for textiles, laundries and dry cleaners. It's suitable for use with any RFID UHF readers in hotels, spas, nursing homes, sports clubs, stores, warehouses to work with the programs of accounting and movement control of textile products. It can serve as an effective mean of protecting the brand and contain (write) information of a manufacturer, seller. The use of these tags allows you to monitor and control the movement of textiles, sort by groups, conduct an inventory, count the number of dry cleaners and washes, at the same time protecting the product from theft.
Specification:
Type: No-touch R/W rewritable
Operating Frequency: UHF (860 ~ 960 MHz)
IC Available at 860MHz ~ 960MHz: UHF EPC Gen2 (EPC Class 1 Gen 2)
Size: 87 x 15 x 0,9 mm (textiles) / 55 x 11 x 1.1 mm (silicone)
Reading distance: up to 300 cm to 500 cm
Simultaneous identification of tags: up to 100 pcs. per second
Validity: up to 200 washes / dry cleanings
Operating temperature: - 25 ° C to 120 ° C | + 150 ° C, a total of 50 hours | + 205 ° C up to 20 seconds.
Mechanical pressure up to 60 bar
Storage: - 25 ° C to 90 ° C
Number of programming cycles at + 25 ° C: 100,000 times
Duration of data storage + 55 ° C:> 10 years
Competitive advantage:
Waterproof IP 68
Simultaneous tag identification up to 50 tags per second
Reading distance up to 300 cm to 500 cm (depending on environment)
Data storage + 55 ° C:> 10 years
100,000 times of recording and rewriting
Resistance to high temperature, harsh environmental conditions, aggressive environments
The price: $ 0.50 for 1 piece with the purchase of 10,000 pieces.

«Textile tags» guidance for integrating
Industrial portable reader FM880
reader (mobile terminal for data collection)
the price $ 1200 including software that is integrated with Trade Management
RFID

Operating frequency

UHF 860-960 MHz

Protocol

ISO18000-6C, EPC Class 1 Gen 2, ISO18000-6B

Reading distance

400-1300 cm

RSSI

Indicator of received signal

Discrepancy prevention

Reading upto 400 tags at a time

Antenna polarization

Circular polarization

SDK

Free SDK conditions applied to a reader

System possibilities

Operation system

Microsoft® Windows CE® 6.0 или Android OS v2.2

Processor

SAMSUNG Cortex-A8(1GHz)

Memory

Memory

256MB/512MB Mobile DDR RAM

Flash-memory

256MB/512MB Nand Flash ROM

Additional inline memory

Micro SD 32G (Maximum)

Audio, slots, ports

USB ports

yes

Slots

1 MicroSD Slot, 1 GSM/GPRS Slot

Camera

It extends

1D bar-code

available

2D bar-code

It extends

Input/output device

Input device

QWERTY keyboard, touch-screen in colour, stilos, start button, upper-case input support

Output device

3.5" Transmitting LCD, QVGA(240 x 320) or VGA(480 x 640), LED x 2, zoomer (sound buzzer)

Communication functions

Wi-Fi

802.11b/g

GPRS (GSM)

GSM/GPRS/EDGE: 850/900/1800/1900MHz

3G

WCDMA / CDMA2000

Bluetooth

Bluetooth 2.1 + EDR class 2

GPS

integrated

Features

Dimensions

190 x 75 x 30 mm

Weight

520 g (with a battery)

Case colour

Matted black

Energy features

Battery

Rechargeable 3.7V 4000mAh battery (accumulator)

Power supply

AC Adapter

Use conditions

International protection

IP65

Operating temperature

-10°C - 50°C

Storage temperature

-20°C - 65°C

Charge temperature

0°C - 40°C

Moisture content

5% - 95% without a condensation product
RFID card reader F5106 (25*25)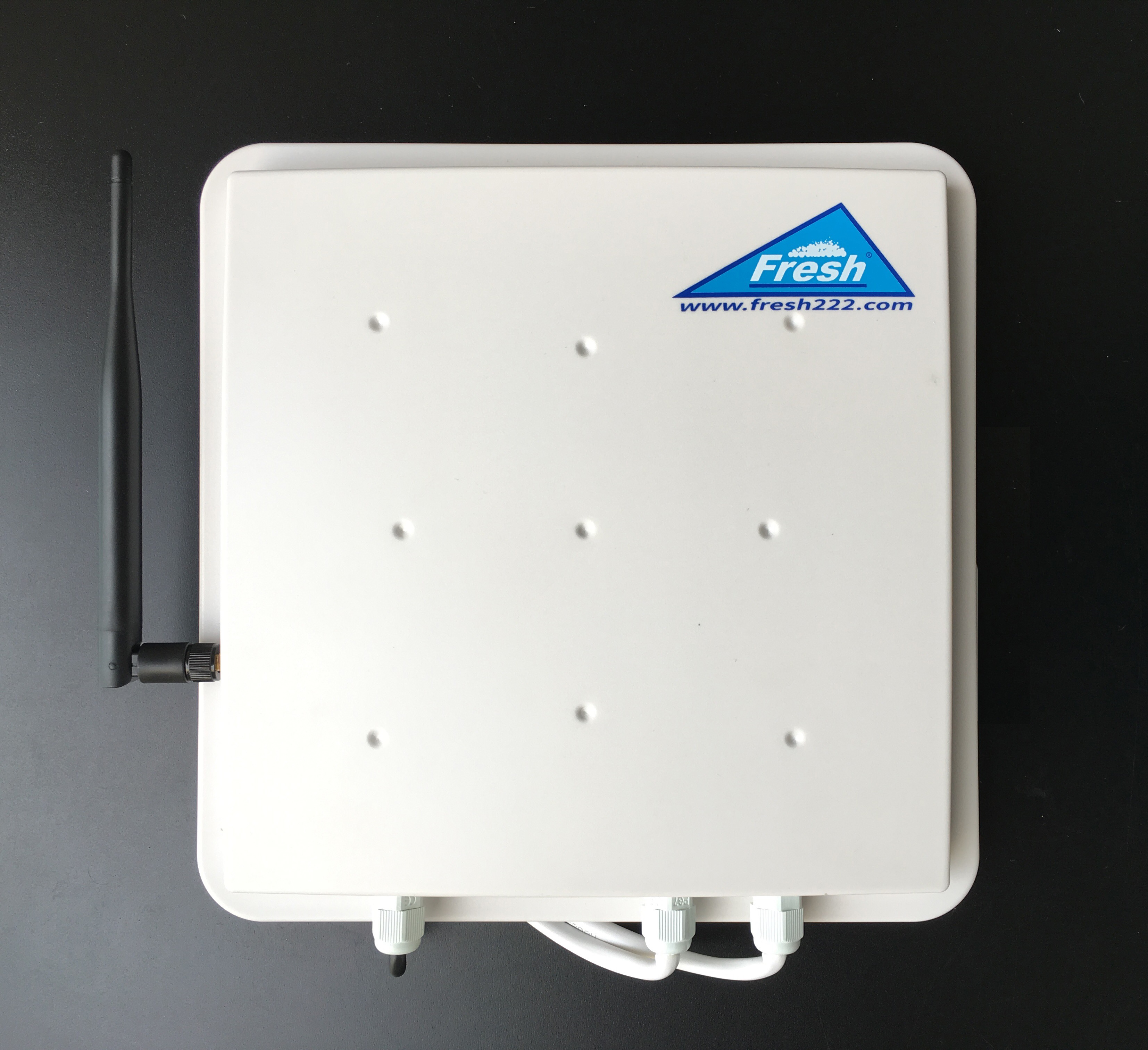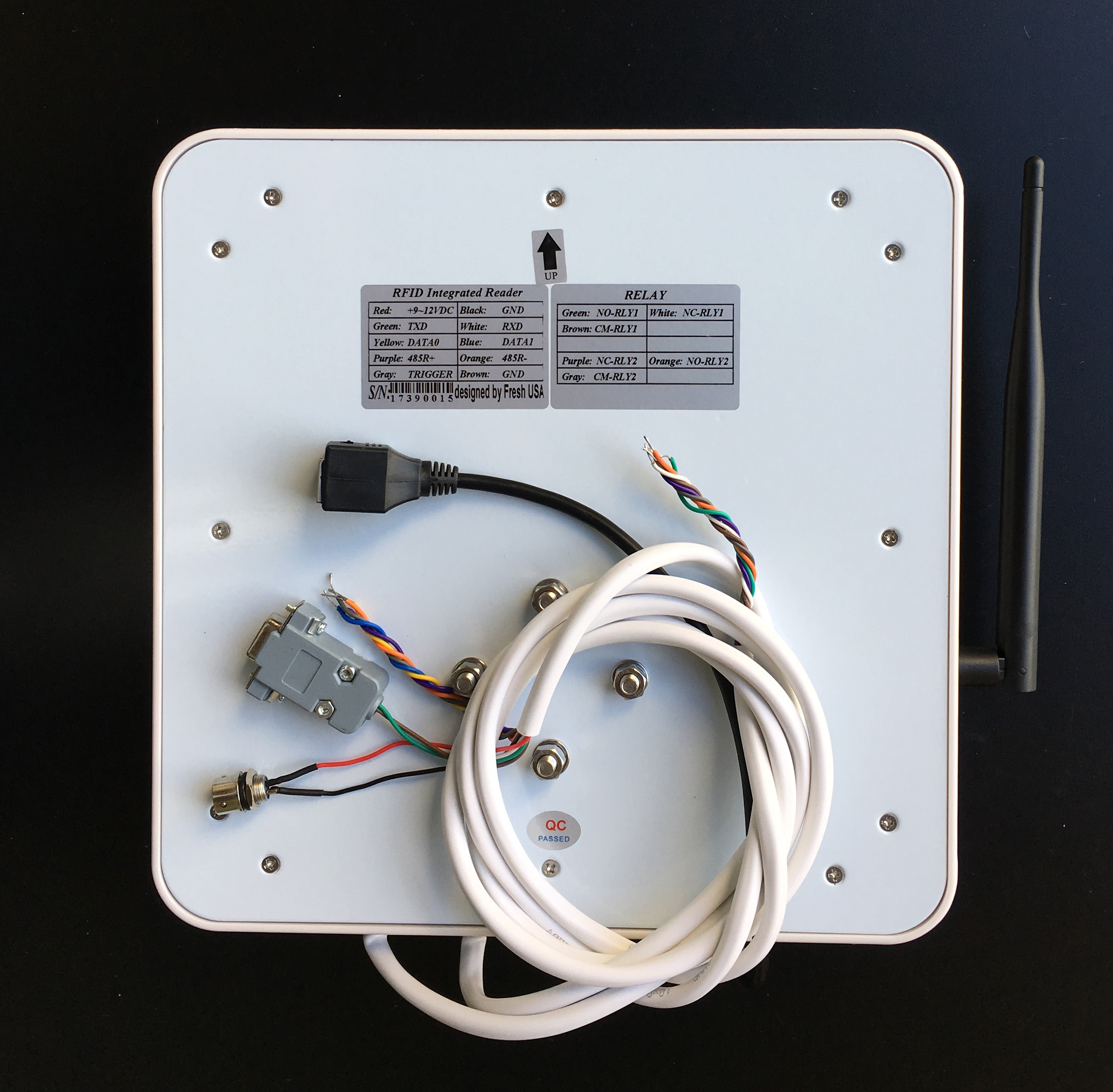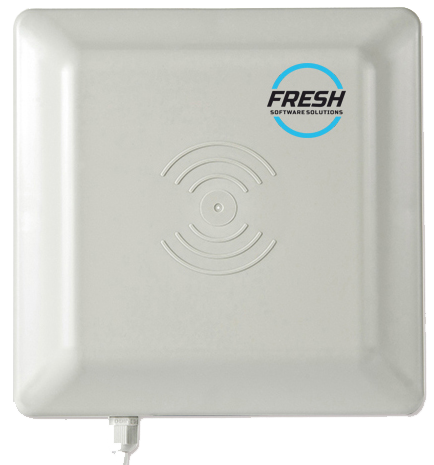 Features

Supporting protocol

ISO18000-6C EPC Gen2 / ISO18000-6B

Operating frequency

ISM 902MHz ~ 928MHz, Or 920MHz ~ 925MHz

Adjustment frequency

860MHz ~ 960MHz

Operating regime

Operation with a fixed frequency of transmitting pulses that are set by a software

Transmitting power

20 dBm ~ 30 dB (It's set by a software)

Recording/reading performance

Reading speed

Average reading speed of one 64-bit card 64 less thanper 10 ms

Reading distance

4m – 8m (It depends on a tag and environment)

Speed of recording

8 bit less thanper 30 ms

Recording distance

2m – 4m (It depends on a tag and environment)

Lines reading

Zoomer (signal)

Interface data port

USB port / WiFi

N/A

RS232 port

Yes

RS485 port

Yes

Weigand port

Weigand26/34

Trigger port

Yes

TCP/IP port (RJ45)

N/A

Electric parametres

Power supply

DC+9V,4A

Power consumption

6W

Dimensions and weight

Dimensions

250mmх250mmх50mm

Weight

1500 g

Environment operating factors

Operating temperature

-30°C~70°C
RFID card reader with 4 antenna ports F6950

| | | |
| --- | --- | --- |
| Name | FM6940 | Other models |
| Operation | 3 modes: a proactive mode, answer mode, startup mode | Usually 1 mode, some models can have 2 modes |
| Anti-conflict | Support for labels anti-conflict with excellent effect, the algorithm has no errors | A large number of errors in the algorithm, the instability of the anti-conflict effect |
| Label data storage | Integrated storage system of label data includes port code for the antennas, time, data labels content, etc. | Usually without a storage, it may contain only store data, without other information |
| Labelloadingdatasystem | Different systems of loading data: manual, time estimate, choice of a certain time, release, addition, modification | - |
| Label process facilities | Support the reserved area, EPC areas, TID fields, user's operational areas, it supports complex data masking tape for various fields | Only to achieve EPC area by a direct operation without data masking. Indirectly to finalize TID field |
| Real time | Integrated real-time clock with no data loss when power is off, reading and writing labels has a timestamp. | - |
| | Full labels EAC operation, support the relay link. | - |
| Privacy | Label privacy function is fully supported | - |
| High speed of data operation | Support for such high-speed data operations as mass flow erase and mass reading,the speed is four times higher. | - |
| Functional configuration | Without malfunction and supply fail | - |
UHF card reader F5112 (45*45) plus long-range.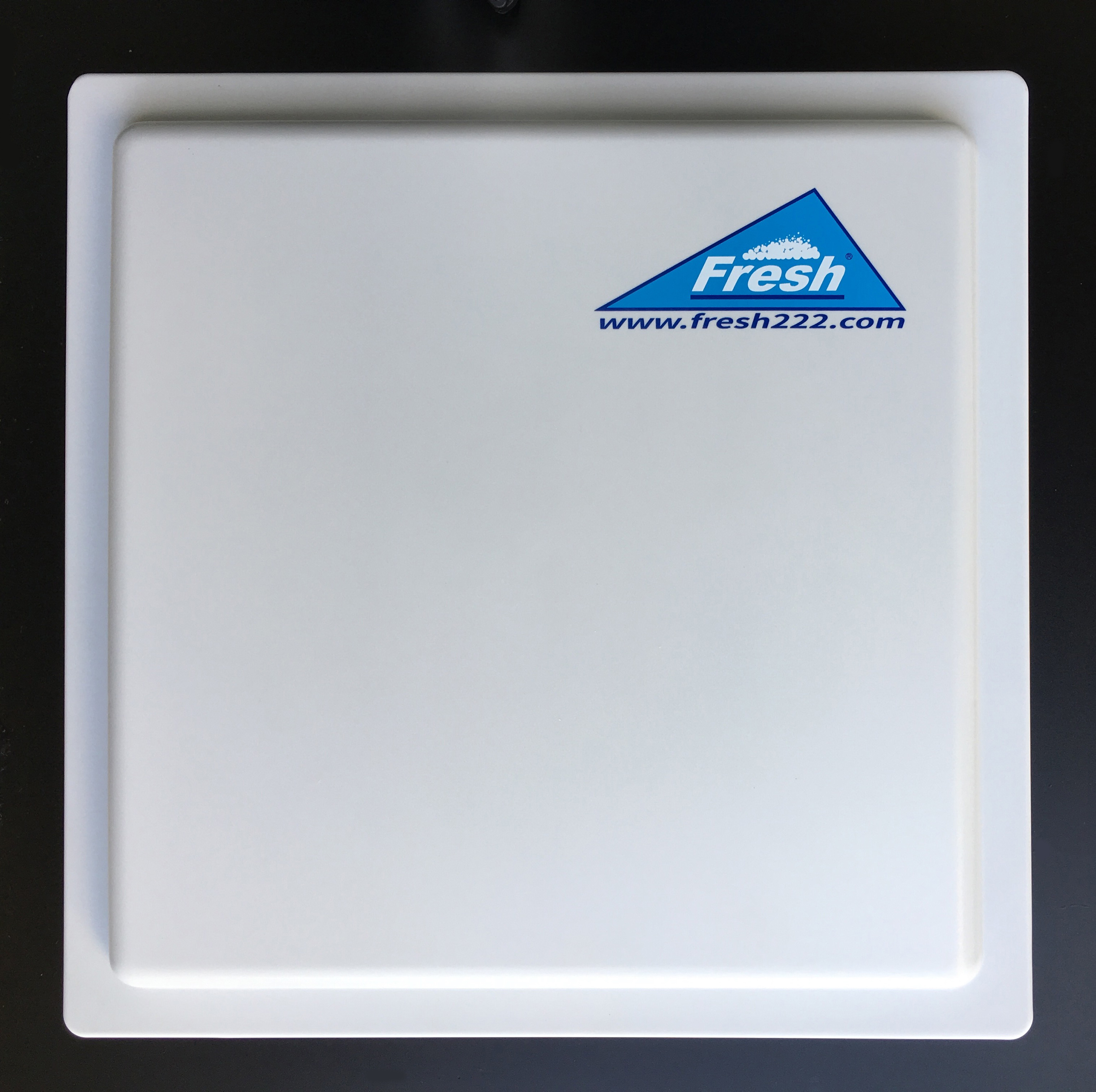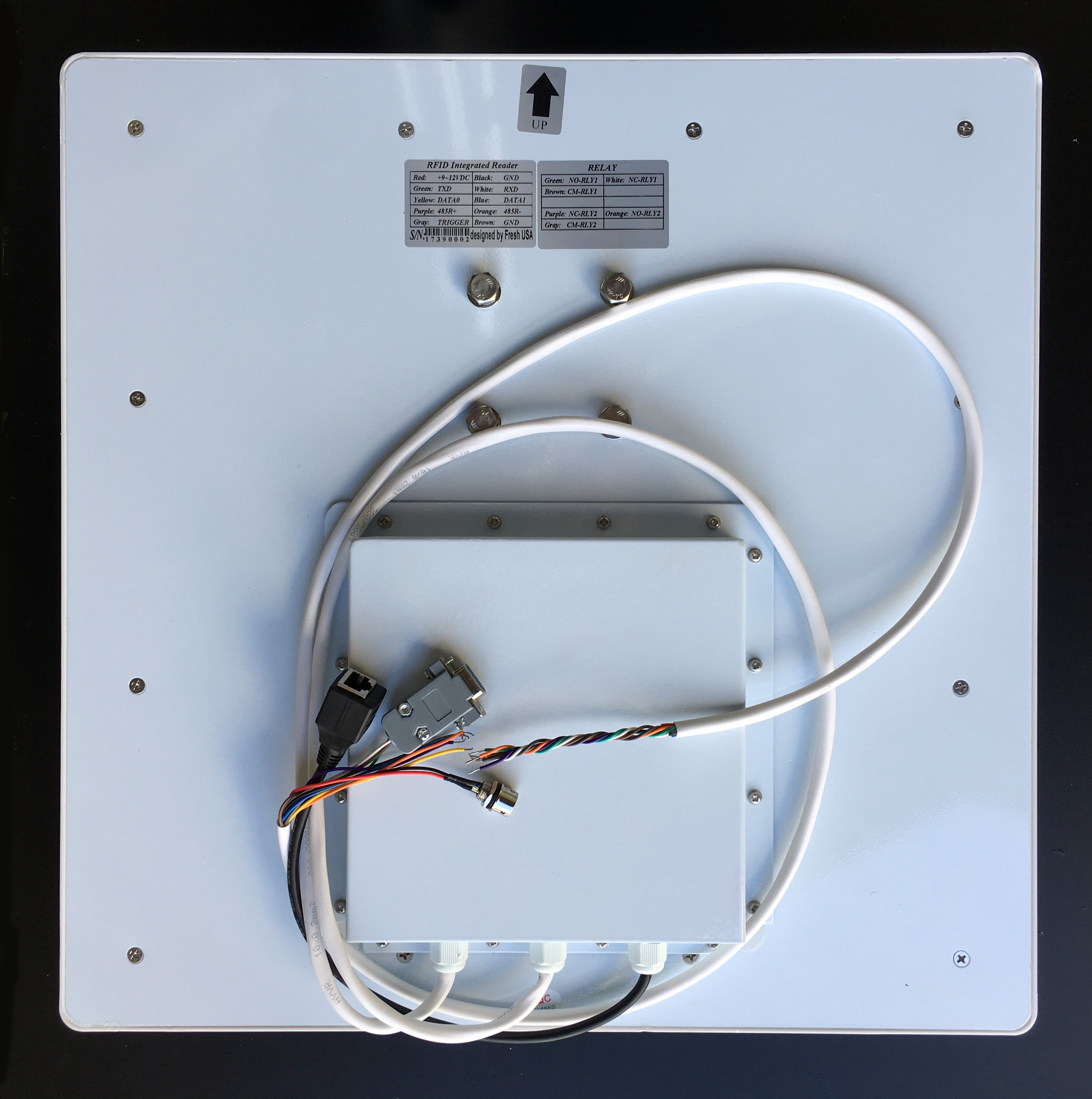 Features

Supporting protocol

ISO18000-6CEPC Gen2 / ISO18000-6B

Operating frequency

ISM 902MHz ~ 928MHz, Or 920MHz ~ 925MHz

Adjustment frequency

860MHz ~ 960MHz

Operating regime

Operation with a fixed frequency of transmitting pulses that are set by a software

Transmitting power

20dBm ~ 30 dBm (set by a software)

Reading/recording performance

Reading speed

Average reading speed of one 64-bit card 64 less thanper 10 ms

Reading distance

8m -15m (It depends on a tag and environment)

Recording speed

8 bit less thanper 30 ms

Recording distance

4m -7m (It depends on a tag and environment)

Lines reading

Zoomer (signal)

Interface data port

USB port / WiFi

N/A

RS232 port

Yes

RS485 port

Yes

Weigand port

Weigand26/34

Trigger port

Yes

TCP/IP port (RJ45)

N/A

Electric parametres

Power supply

DC+9V,4A

Power consumption

6W

Dimensions and weight

Dimensions

450mm х 450mm х 60mm

Weight

3700 g

Environment operating conditions

Operating temperature

-30°C~70°C