Anti-theft system for hotel.

Hotels have embedded tiny tracking devices into the towels. Now anti-theft system for towels tracks all the goods you steal from hotels. The hotel luxury items and robes are very fluffy and make the customer feel comfortable and cozy. Some clients often want to stealthem, and most of them actually do steal. Towels are the most stolen item from the hotels,but now hotels can tell that which client have taken the hotel property and can even track the guest. The hotels pay thanks to the small sized tracking device which can be embedded into towels, bedsheets, pillows or robes. Details here
The anti-theft system for hotel uses a linen technology tracking service which is distributed among more than 2000 hotels. The primary goal of the tracking device was that hotels can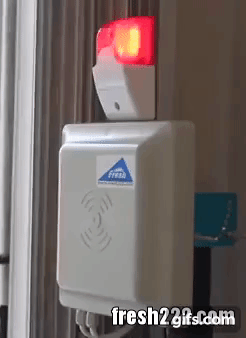 keep track and can count the amount of the linens which are going to the laundry and coming back. The prevent towel theft proved to be very handy for all the goods that many of the guests tried to steal. The hotel system also uses scanner device at the entrance and exit of the hotel so anytime who pass by the exitdoor with the hotel goods will be alerted immediately.
According to the hotel policy, the hotels doesnot charge guests for using any linen but still many of the towels have been missing every month. An average hotel loses almost 10 to 20 percent of linens every month and linen includes bedsheets, towels, robes and other sheets. And an estimate of about 5 percent linens is stolen
The anti-theft system for hotel alerts the hotel staff with the signals or the loud alarming sound when any cloth leaves the area of hotel exit. The thieves can be caught immediately if a linen has left the property. The business owners are very thankful for the technology because it has helped and provided an easy way for the anti-theft. The thief can easily be captured by the embedded chips in the towels or bathrobes and will protect the hotel belongings. So save your money with the latest technology which is fit and efficient to use.
FRESH USA Inc.