Theft protection system.
All over the world there are a lot of hotel chains and they all do their best to make each guest stay comfortable. But not all guests are grateful for such efforts and sometimes they donot mind snatching something from the the hotel as a souvenir. What is taken more often from the hotel and where does money go? These things can be not only towels, slippers, bathrobes but also high-priced things: stereo systems, Doc- stations, iPhone chargers, art reproduction, alarm-clocks, hair-dryers.But towels and bathrobes disappear more frequently. Of course, this problem is not of a global nature but it disturbs and brings constant financial losses to hotel owners.
They tried to solve this problem using different ways: they placed hotel logos on the towels, made housekeeping staff control over towels inventory, but hotel property continued disappearing as well as money of some corporate organizations that annually lose huge amounts of money to cover their losses.
More often corporate organizations raise the question: «Is it possible to curb this problem and eliminate it effectively?»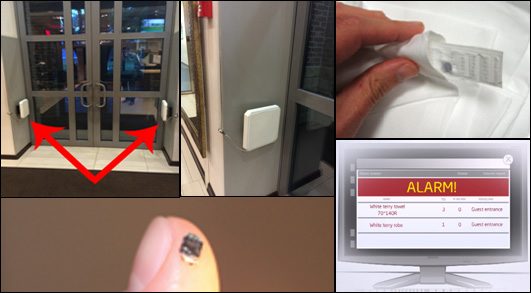 And such a solution has been found! Recently radio-frequency identification technology (RFID) has been developing at a quick pace. You immediately think: «How it's complicated...». But everything complicated can be simple indeed! In each towel, bathrobe or another textile product you embed RFID tag that is valid during consumption period of a product. You can wash, iron, dry clean this thing but RFID tag will continue working. And the most important peculiarity is that a tag is invisible, practically not sensible and has its unique ID code.
Each hotel exit is equipped with small antennas-readers that can be installed in walls and ceiling and therefore be hidden from sight, also an application software is installed in the needed computer-as a whole all these present theft protection system.
If a guest approaches a hotel exit and he has some hotel property somewhere in his belongings, an alert-signal will be activated at administrator's computer and a text message on a computer screen gives an exact information about a hidden thing.
This is simple and inexpensive solution of such a serious problem for some corporate organizations. Beside that, together with theft protection system RFID tags can be used for inventory purposes of a hotel.
Currently RFID technologies are becoming more affordable and RFID tags are more technologically sophisticated and practical. As a whole it presents an up- to-date solution of security and service – theft protection system for hotels.
RFID – technologies always save your money!
FRESH USA Inc.